9-year old Haley seemed more tired than usual when school started last fall, but a lot of kids feel like that at the beginning of the school year. During the family's Labor Day camping trip, when usually outgoing Haley spent more time sitting around with the adults than off playing with the kids, her mom, Erin, was concerned. But Haley didn't complain.
A couple of weeks later, Erin received a call from the school nurse. During PE, Haley was pale and very out of breath. This, combined with an elevated heart rate, prompted the nurse to suggest Erin come take Haley to the doctor.
Later that day, her pediatrician discovered Haley had a heart murmur. Further testing showed it was caused by extremely low hemoglobin levels in her blood. After he consulted with doctors at the University of Iowa, Haley and Erin headed to the local hospital to get ready for a blood transfusion. While settling into her room, her doctor received another call from the University of Iowa.
"The doctor there says, hey, we see something in the blood work that looks like cancer. We need you to come straight to Iowa City. I'm with Haley by myself and I hear the word cancer and I'm trying not to freak out in front of her," Erin remembers.
After calling her husband, Nate, with the news, Erin and Haley went home to get him. Nate quickly arranges for care for their other two children, packs bags and gets himself ready. They arrive at the hospital by 8 pm that night.
"Staff immediately begins to try to get an IV started, but because of her low blood, they had to prick her how many times and that wasn't good." Erin recalls. "Around 11 o'clock that night, the doctors came in and explained that Haley had been diagnosed with leukemia. And then it just kind of spiraled to where we are now."
Chemotherapy and steroid treatments started the next day. Although her first hospital stay lasted only 7 days, Haley's weekly treatments had just begun. She will need to receive chemo for three years. During the first month, Haley experienced hair loss and an almost complete loss of strength.
"She couldn't even sit up by herself, or get into bed. It was so hard to get her upstairs to our only bathroom, that Nate (a carpenter) added a second one on the first floor," Erin said.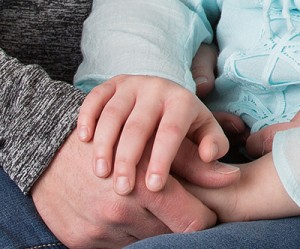 Haley wasn't the only one strongly affected by her leukemia. Erin said she couldn't even say 'cancer' or 'leukemia' for the first week.
"I had a lump in the pit of stomach all the time and I would burst into tears if anyone said it. It really affected Nate, too," she said. "I think Haley's being so dependent on us really hit Nate hard. Even his co-workers mentioned he seemed more serious."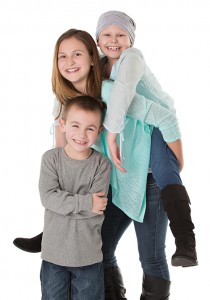 Her siblings seem to be taking everything in stride, however. "Taylor wants to be alone a lot, but she's at that age anyway, and her little brother, Niles, finds the hardest part being away from Haley so much. We told him her blood is sick and she needs the treatments to get it better. And that seems to make him feel better," Erin said.
Erin has also had to take a leave of absence from work, and that made finding money to drive back and forth to Iowa City a little harder to do. Fortunately, in October, their U of I social worker encouraged them to apply for assistance from Compass to Care.
And you've been helping Haley travel to her treatments ever since.
"We want you to know how very much appreciated you are. Knowing we don't have to try to figure out how to come up with money to pay for all the gas and parking – it's awesome! We don't know how to say thank you enough," said Erin.
Your donation to Compass to Care will help kids, like Haley, travel to cancer treatment.
---
Thank you Kim Anne Photography, for the wonderful photos of Haley's family!